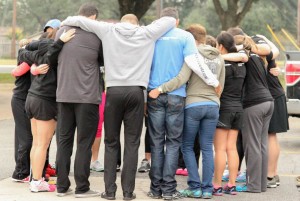 "If we wait until we're ready, we'll be waiting for the rest of our lives." Lemony Snicket
Over the last couple of years, more and more CrossFit competitions are being held all over the nation.
CrossFitters everywhere can now compete against other CrossFitters who fall under the same skill level.
Thankfully, most every competition today now offers a scaled version just like this year's CrossFit Open.
In addition, there are several categories that you can compete in; RX, Scaled, Individual, Team, CO-ED,
Masters. The opportunities are endless. But what makes these CrossFit competitions so popular?
Because even the "I'm just doing this for the workout" crossfitters have the opportunity to improve their
own progress, appease their competitive spirit and still take part in the community and culture of
CrossFit.
The weeks leading up to my first CrossFit competition was packed with all kinds of emotions, both good
and bad. I had no idea what to expect. I think it is probably safe to say I was more nervous than
anything. I had only been doing CrossFit for a few months and yet I had this desire to compete. All I
wanted was to have fun giving it everything I had without passing out, puking, crying or falling down (yes
I am clumsy). Needless to say, I didn't pass out, puke, cry, or fall down. Instead, I had achieved a
personal best with my lifts, pushed harder than I ever thought possible, got closer with other members
of the gym, and accomplished a goal of mine.
If you are thinking about competing in a CrossFit competition I am here to urge to DO IT! Go online, sign
up and don't think twice. It will be one of the best decisions you make for your CrossFit journey. What is
the goal of doing CrossFit if not to get better right? We all want to improve and the best way for you to
do that is to take the next step and compete against other people who are in your exact shoes.
What you can expect from a CrossFit competition:
1. Expect to Have Fun
2. Expect to Impress Yourself
3. Expect the Unexpected
4. Expect to be Inspired
5. Expect to be Addicted
A CrossFit competition is about sportsmanship, camaraderie, teamwork and drive. While we do compete
against one another, the primary goal is to exceed our own efforts; winning is secondary. We cheer
louder and harder for those in last place than those in first. We rally in support of someone that is
struggling with a movement or making an attempt at a PR. Everyone wants to see everyone do their
very best. It's infectious, exhilarating and addicting.
So, what are you waiting for?
– Jenn Dudley