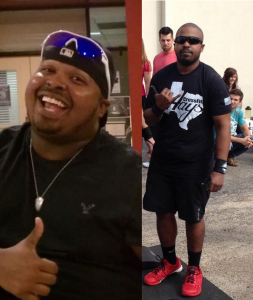 I was always overweight growing up, from the time I was in elementary school, through high school. But yet I was still very active and Athletic participating in football, baseball and basketball.
Going into my freshman year at Texas State the weight began to pile on. By my sophomore year in Feb 2013 I weighed 325 pounds. I had hit rock bottom, it was them that I realized I needed to take control of my life again, I began to slowly change my lifestyle working out more, and eating healthier. Slowly but surely the weight came off and by April 2014 I was weight at 268 pounds. I wanted to change up my workout routine a little bit, so a very good friend of mine, who is now my coach talked to me about CrossFit. I was skeptical about it at first hearing different things about it negative and positive, and never wanted to step foot in there.   Until I finally I went to a Saturday workout for free in a May. After that it really sparked my interest, so I began to stick to Saturday's only. By July I had committed to being there 4-6 days out of the week.  After only 6 months into CrossFit, I've far surpassed the strength that I had in when I was playing football and powerlifting. my conditioning has improved dramatically as well. In close to two years, I've lost a total of a 125 pounds, the last 65 I owe to CrossFit. I'm a lot healthier and more aware about the things I put in body, and that has made my change what I want to do in my career once I graduate from Texas State. To help others get a hold of their lives, and change for the better!
This past December I competed in my first competition placing 2nd in the men's scaled division. I plan on competing in more this coming year!   CrossFit Hays has pushed me to become the athlete I am now, and an overall better person because of the community that is there.
CrossFit has allowed me to become not only in better shape, but also taught me valuable lessons about pushing through adversity, and understanding that not everything comes easy.
I urge everyone to get committed to fitness, start changing your life one day at time. It can be done. I've done it, I understand that it's a battle, but it's a battle that anyone can win when you have the mindset to succeed!