And what an amazing year it has been. My husband and I had just moved to Kyle in June 2014 and we were in the process of finding a new gym to work out at. We looked all over for the right one. We gathered information from Anytime Fitness, O2, and even considered driving to South Austin to be able to go to a much larger gym. As we were driving around, we saw a sign on a building off of the interstate that said CrossFit. We figured since we hadn't decided where we would sign up yet, we may as well just see what it looks like inside. So we parked in front of the door and saw that they were working out. It looked incredibly intimidating and we sat in the car for a few minutes debating whether we should just leave. But we got up the courage to get out of the car and walk inside. It didn't take long before a very nice girl came up to us and started talking to us about CrossFit and gave us all sorts of information. She invited us to try it out the very next day. I remember walking out of there saying to my husband, "I want to look like her". I wanted the toned muscles, the strength and the confidence that she had.
After my husband and I talked about it for a few days, we decided we would try it out for a month and see how we liked it. We didn't know how we would afford it, but we knew we wanted a change in our lives and we knew that the regular gyms that we had been going to for the past five years just weren't cutting it for us anymore. We knew it was going to be tough, but we had each other. And believe me there were several times in the beginning that I told my husband that it just wasn't for me, that I wasn't strong enough, that I felt like an idiot because I couldn't do most of the movements. Thankfully, he urged me to keep pushing, to find the strength to put on a brave face and not quit.
Twelve months later, we are still crossfitting! And boy is it worth every penny! There is so much more that comes with a membership. It's not just about working out; it's about everything you get out of it. You will find an inner strength that you never knew you had; you will start to feel good about yourself; your body will start to change and you will learn to be proud of every part of you. You will build friendships that you didn't think you needed; you will find yourself eating healthier; you will have this glow about you; and before you know it, you will be mastering all of the movements that you once said you could never do.
It has been an amazing, life changing experience for me.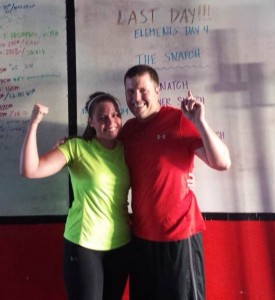 4th Day of CrossFit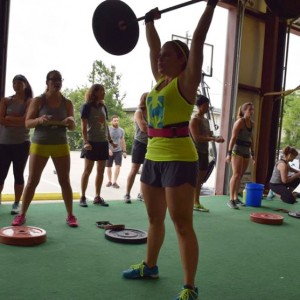 365th Day of CrossFit