I really like pineapples. More often than not, when I go to Sam's Club I'll pick one up – the price tag is better than the ones on the pineapple at Kroger.
Pineapples are not only delicious, but good for you. Among other things, it contains a bunch of the following nutrients:
Potassium: helps your muscles to contract, maintain fluid balance, and maintain a healthy blood pressure.
Vitamin C: this natural antihistamine and antioxidant is also an important factor in collagen production, which is useful in healing wounds of various types.
Vitamin B-6: this vitamin helps support healthy brain function, maintaining normal nerve function, forming red blood cells, and as well as breaking down and digesting proteins.
Fiber: good ol' fiber helps keep you regular, lowers cholesterol levels, and helps control blood sugar levels.
I'll usually cut it up and eat it fresh, but when I want some fast, healthy dessert I broil it with some coconut oil, turbinado sugar, and cinnamon. Lots of cinnamon.
Cutting a pineapple at first can seem kind of intimidating, but a couple of times through and you'll be a pro. For this particular recipe I cut them up into spears. For a how-to video, click here.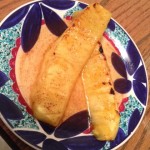 Broiled Pineapple Spears
prep time: 10 minutes | cook time: 10 minutes

Ingredients
1 pineapple, cut into spears
1/4 cup virgin, unrefined coconut oil
1/4 cup turbinado sugar
1-2 tbsp cinnamon
Place oven rack closer to the top of the oven and preheat oven to the high heat "broil" setting.
In a small saucepan, melt coconut oil over low heat and then whisk in sugar until it is melted and combined. It's okay if it's still a little bit grainy, it'll melt the rest of the way in the oven. Stir in the cinnamon.
Lay the pineapple spears out evenly on a baking sheet (use parchment paper or silpat will make clean-up easier) and spoon coconut oil mixture evenly over the pineapple.
Pop the baking sheet in the oven and broil on high for 10-15 minutes, or until sugar caramelizes and edges of pineapple are golden brown.
Enjoy! 🙂