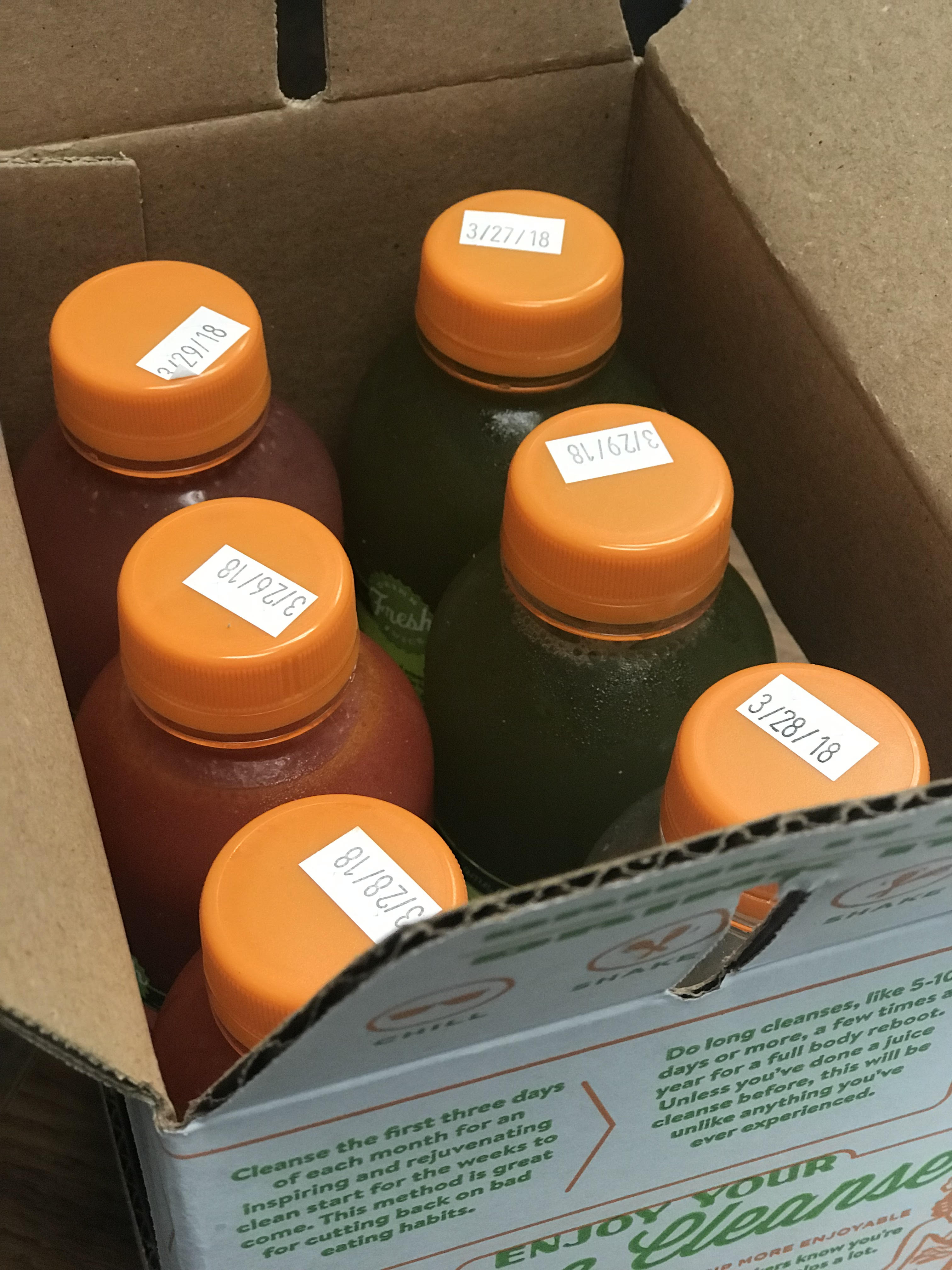 HOW am I still doing this?!  I don't know.  I don't need to lose weight, but really need this cleanse for my digestive issues.  I've passed by the P Terry's drooling and the local coffee shop (I drink tea, but still!) seems to call my name.  It's hard and my tummy says 'cake' like every 10 minutes.  It's hard not to eat, but distraction or my method of 'just keep drinking' has been helping.  With this method of 'just keep drinking,' I have thought I might run out of juice by doing this, but so far, hasn't happened.  If I do get to that, I've decided I'll go pick up another bottle from Juiceland.
For the 2nd day, I kept it simple and went with the recommended juices again from Juiceland: Gingerade, Beverly Cleary, Tigerlilly, Watermelon Chia Pep, CocoLilly, The Fountain.  I drank the first 3 bottles by 3pm and then drank the last three by 8:30pm.  I drank them in the order listed since this is what Juiceland says to do.  Overall, the day went well.  I had a bowel movement in the morning after having one the first day, which I normally don't go every day.  This, I think, is good.  Mild headache started after lunch again, but I kept drinking and it helped.  I wasn't tired like the first day after work, my headache was gone, and actually was in the mood to pick up and organize the house.  I say "in the mood" because I normally do this, but there was an actual pep in my step when doing.  Could've been because I've been in a good mood lately, but the juice might have been helpful?
My husband, who is doing this with me, reported that his bowel movement was less solid on the 2nd day (yep, runny).  On his first day, he tried to play basketball, and that was a big fail.  He reported stars and he said he was very weak.  I reminded him that we aren't supposed to workout during the cleanse, but I think he mumbled something that sounded like "well, I am not your average man…"  heehee..  He's not, and will try to play basketball again on the third day.  Go Hubby!  (Although do not try this at home.)
How have we managed with social events?   Driving to the event was hard.  We talked about how we might feel embarrassed telling others, especially if it was a sit down dinner.  There have been moments where we thought we might be weak.  For example, I had gone over to friends house and we normally drink wine and have snacks.  I brought my Yeti cup filled with my last bottle of juice and told her I couldn't have wine (blashphemy!) or snacks.  I brought grapes and a bottle of wine for her, but I held up!  What I learned from that is people will be so supportive once you tell them what you are doing (Go friends!).  On the 2nd day, I had my weekly lunch with a friend from work.  I told her what I was doing, brought my bottle and it was just fine.   The 2nd night, both the hubby and I went to friends house for a gathering of just adults.  We feared they may have a sit down dinner, queso or something so yummy we couldn't resist.  We brought our Yeti cups again, and after explaining to one or two couples, it became a great conversation starter and we were again successful in warding off eating any food (it was easier since they didn't have queso!).  They helped us stay strong and gave us some encouraging words.  So, even with all of the opportunity for failure, we both succeeded.
PS – I have gotten one of my friends to join me.  She is one day behind me.  Hope you join me in juicing, too!